A Dedication to Resourceful Living: A group approach to focus on what matters to the members of our community whose lives are impacted by chronic lung disease.
July 2014 Meeting
Debbie Leidheiser spoke
Senior Advocate, Chesterfield County Virginia
TOPIC: Seeing Through the FOG of Senior Resources
The July 2014 meeting was held at Bosher Auditorium with a good crowd for a day that had intense July heat in the Richmond area. Ms. Leidheiser talked about the explosive growth of people aged 50 and older in the Richmond metro area, and how this growth is expected to increase as more people come to live in the Richmond area. Described in the presentation are the many programs and resources available for seniors.

The Richmond Virginia metro area is considered a highly desirable place for retirement and the infrastructure to support this population has increased considerably. Ms. Leidheiser describes the many tools available for better living for seniors in our area.

Read more about the July 2014 Meeting
Pulmonary Fibrosis Study
The Participation Program for Pulmonary Fibrosis (P3F) are currently recruiting pulmonary fibrosis patients (fibrosis of any etiology, not just IPF) to sign up for a Contact Registry as well as for a study in which we will examine the effects of daytime supplemental oxygen on a number of outcomes.
For our supplemental oxygen study, we are looking to enroll patients currently using supplemental oxygen and those likely to need supplemental oxygen in the next year or so.
We are asking for your help only to spread the word about this study to all the members of your support group. All data collection will occur either online or via mailings.
Packets containing a more detailed explanation of the study along with recruitment materials (e.g., flyers, business cards) are being mailed to you and should reach you in a few days.
We appreciate your time and attention, and we hope that you can help us by letting the members of your pulmonary fibrosis support network know about these exciting opportunities.
If you would like more information about the P3F, please check us out at www.PFresearch.org and follow us on Twitter at @DoctorSwig or email our Principal Investigator, Dr. Swigris, directly at swigrisj@njc.org.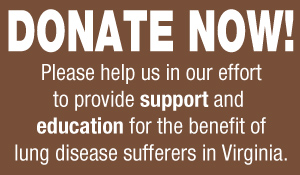 Every Breath Counts
This new film about IPF looks at the lives of sufferers and the treatments that are being developed to combat the disease.
CHIPPENHAM MEDICAL CENTER
OCTOBER 13 - 1:30PM to 3:00 PM
This film will be shown in it's entirety on the Discovery Channel on Sept 13th and 27th at 8 A.M.
Benefits of Joining A Support Group
With an illness like Lung Disease, often a feeling of hopelessness and loss of control becomes the norm. With a support group, participants are able to regain that sense of control and exercise authority toward management of their situation.
Support groups can be instrumental in improving psychological motivation. By simply getting "out of the house" and joining with other people with an understanding of the problems being faced, a positive attitude can be nurtured and improved.
WHO CAN JOIN
Any individual that is lung affected can become a member. However, recognizing that it is not only the individual with the lung disease that needs support we encourage the caregivers or "care partners" and other family to join and attend the meetings. Learning and receiving support together helps to equalize the disease experience for all who are involved.
HELP US!
Do you know of a currently operating pulmonary support group? We are compiling a list for this website: if you know of one, let us know. Thanks.
LEARN MORE AT
THE IPF WEBSITE

For seniors and adults with disabilities and the providers that support them
TRANSPORTATION FINANCIAL
HOUSING
Virginia Easy Access is the name of a website developed for seniors, adults with disabilities, their caregivers and the providers that support them. Virginia Easy Access is full of helpful information about services and supports that are available across the Commonwealth.

Website: Virginia Easy Access
Questions?
Call the Facilitator!
Russell Glover
(804) 378.0628
russellglover@
verizon.net
Stop Smoking Today Online!
Contact Susan J. Keen,
RN, OCN at
CJW Med Center

email: Susan.Keen [at] hcahealthcare.com
2015 Meetings
---