NEXT MEETING:
June 8, 2020
Special Breath Matters Online Zoom meeting.
If you are comfortable with Zoom and have the app. installed on your I-Phone, I-Pad, Desk-top, lap-top; etc., and email address – you are good to go.
THE MEETING ID AND PASSWORD WILL BE EMAILED OUT BY DON BANE - CONTACT DON IF YOU NEED THIS INFORMATION.
MORE INFO COMING ON OUR SPEAKER AND TOPIC - PLEASE CHECK BACK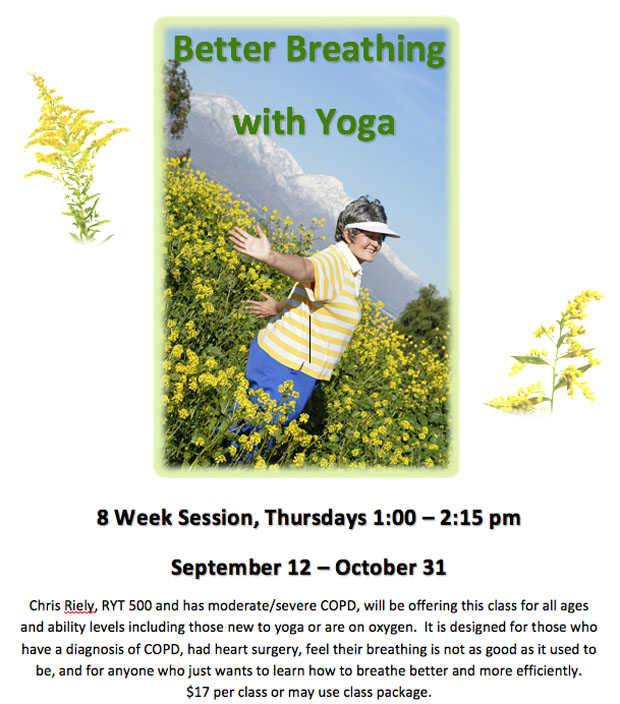 Message from Chris Riely:
I've been practicing yoga for almost 20 years but was diagnosed with Alpha One in 2011. That really ramped up my yoga interest and I took classes to become certified to teach. It was then I realized what yoga was doing in terms of helping me feel better and being able to function and breathe better when I practiced on a regular basis.
This is truly a class for those who have never done yoga before, are on oxygen or need a chair. We are a gentle, easy and slow class. I want people to feel the stretching, lengthening and strengthening of their muscles of respiration.
I'd love for members to come and give my class a go and I'll also see if I can find a date where maybe we can use Glenmore one afternoon for a couple of hours for organization members only. I'll let you know what Kathleen, the owner says. She is one amazing woman and has bent over backwards for me and my "cause". Breathe work and yoga go hand in hand.
I also do one on one sessions for those who feel they have very specific needs.
Here is the link to Glenmore Yoga so that you can look around the site as well as get the phone number and address for the studio. Please feel free to call Kathleen and chat with her if you have any questions.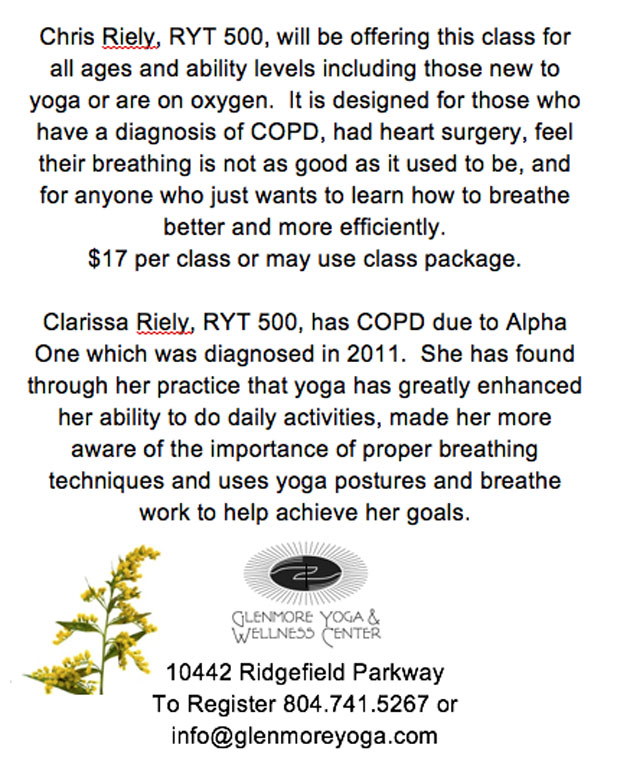 http://glenmoreyoga.com/

I also teach this class in White Stone on Mondays where I have 10 students on a regular basis and on Tuesdays also in White Stone where I have anywhere
Chris (Clarissa) Riely
---
(804) 640-5550 call or text

donbane @ verizon.net


Due to the screening processes at local hospitals (including Johnston Willis, where Breathmatters meets) and the increase of reported flu's and viruses, we are cancelling FOR NOW THE IN-PERSON meetingS of Breathmatters.
We are definitely erring on the side of caution and truly want to keep our members healthy!
Information hotline: 804-937-6855
---